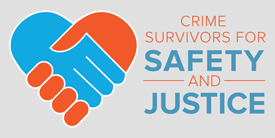 Sign the Petition: Crime Survivors Deserve to Be Heard!
Our country's safety and justice policy debates are missing an important ingredient: the opinions of America's diverse crime survivors. We urgently need to listen to crime victims and listen to their stories. What does safety mean to a crime survivor? That's how we should guide our public safety policy in this country.
Do you agree? If so, take a stand by joining the community known as Crime Survivors for Safety and Justice now.