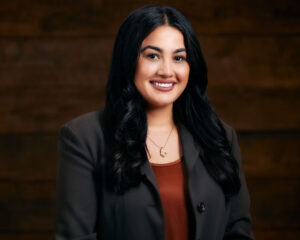 Melissa is our CA Government Affairs Manager. She began her career as a community organizer in the city of San Bernardino where she advocated for social and criminal justice reform. She later worked on local and statewide campaigns and candidate elections in the Inland Empire region.
She later transitioned to Sacramento to work in the California Legislature and for the California Assembly Democrats. Melissa recently worked in the California State Assembly where she served as Legislative Director for Assembly Majority Leader Eloise Gómez Reyes. During her time in the legislature Melissa successfully worked on numerous bills signed into law on issues related to labor, immigrant rights, education and criminal justice reform.
Melissa studied Political Science and Public Service at UC Davis. She is a national award-winning artist, and her work has been displayed in the U.S Department of Education. She is also a published author in the The American Journal of Community Psychology.
On her free time Melissa enjoys attending restaurants with her family and reading. She currently works and resides in Sacramento, California.