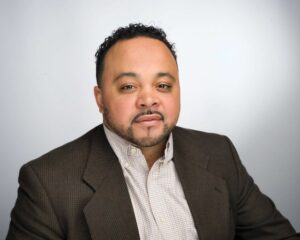 Gilbert Johnson serves as ASJ's California TimeDone Statewide Manager and is a native of South Central Los Angeles and the former Lead Justice Organizer at Community Coalition, the premier social justice organization in South Central Los Angeles. He grew up as a ward of the court, dealt with many family issues, and was first arrested at 16 years old. He battled drug and substance abuse much of his young life, but his life was changed when he was introduced to community organizing in 2009, which marked the last year he was incarcerated. Since then, he has led multiple civic engagement campaigns helping to pass game-changing criminal justice reform policies in California such as Prop 47, Prop 57, and Prop 17.
Gilbert played an integral role in the South LA Community Safety Initiative, a highly successful community-driven effort to increase safety through youth development, safe passages, and trauma-informed healing circles. After drafting the 10 Point Plan to Reduce Crime and Violence in South Central LA, this initiative was created through the leadership of the Balmer Foundation and Councilmember Marqueece Harris-Dawson. Gilbert is currently a member of the Los Angeles County Office of Violence Prevention's Community Partnership Council, a group of community leaders that have survived various forms of violence and work to reduce crime and violence across Los Angeles through a public health lens. He is also a member of the Los Angeles Reentry Health Advisory Collaborative, a team of system-impacted leaders that advise LA County justice reform policies and strategies.
Gilbert Johnson is a perfect example of the positive change that can occur when you give people struggling with addiction, gang involvement, and criminal convictions the chance to grow and excel. As the TimeDone Manager with Californians for Safety and Justice, he now works to build safer communities through eliminating barriers to success and increasing economic stability for millions of folks living with arrest records and convictions.