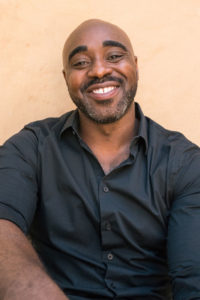 Jay Jordan has worked at the intersection of social justice and politics throughout his career. He serves as ASJ's CEO, overseeing all of ASJ's state-based teams and reform advocacy efforts, as well as the #TimeDone National Director. Jay co-founded the organization's #TimeDone campaign to organize people living with past conviction records to eliminate the barriers to opportunity that block them from success. He previously served as executive director of ASJ's flagship state-based program, Californians for Safety and Justice (CSJ). 
Prior to his time at ASJ and CSJ, Jay was instrumental in recruiting and training church congregations in the South Los Angeles area for LA Voice PICO. He served as one of the lead organizers for the Campaign to Ban the Box for the city of Los Angeles and co-founded Faith in Action, a group of crime survivors in the Westmont area of Los Angeles working to transform their community by employing an asset-based community development strategy. As Special Projects Manager for the California Applications Research Group in Stockton, California, Jay spearheaded the launch of the widely successful anti-graffiti mobile app, Clean Up Stockton. He also established a first-class call center that was instrumental in securing victories on several political and social campaigns across the West Coast.
Jay was compelled to create his own non-profit that focused on teen diversion and civic engagement because of his experience as a troubled youth who served time in prison. With the help of Stockton City Councilman Michael Tubbs, law enforcement, and several other allies, Jay launched the innovative youth organizing program, The First50 which in its first year saw both 100% high school graduation and college enrollment. He has been recognized over 20 times for his organizing talents including the American Red Cross' 2014 Hero of the Year, the Literacy Foundations' Innovative Library Concept Award, and a Special Congressional Recognition for Outstanding Youth Program.
In addition, Jay served as co-chair of San Joaquin County's Boys and Men of Color Alliance Juvenile Justice Committee and was a Board member for the African-American Chamber of Commerce of San Joaquin. He made history by becoming the first and only formerly incarcerated Field Director for Congressman Jerry McNerney's successful reelection campaign.