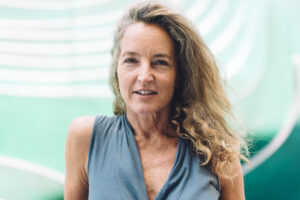 Kim Deterline has over 20 years of experience working in communications and advocacy to pursue racial and economic justice and criminal justice reform. She has worked with the American Bar Association, the Ford Foundation, Open Society Foundations, the Innocence Project and Van Jones, co-host of CNN's Crossfire. She founded and directed a communications training and capacity-building firm called We Interrupt This Message, which helped reform juvenile and criminal justice policy across the country, free innocent young men jailed due to racial prejudice, and defeat ballot initiatives that disproportionally and negatively impact people of color.
Kimberly spent five years in New Orleans, before, during, and after Hurricane Katrina. There she served as a policy advocate and communications consultant to the Juvenile Justice Project of Louisiana, which closed two notoriously violent youth prisons and increased alternatives to incarceration.
She co-produced two videos on criminal justice and communications: The Moreno-Pacheco Story: A Case Study of Principles for Dealing with Race and Media and Sudden Custody Death? The Justice for Aaron Williams Campaign. Her articles on criminal justice reform and racial justice issues have appeared in three books including Talking the Walk: A Communications Guide for Racial Justice.
Prior to ASJ, she spent a year and a half as the Interim Chief of Staff for Californians for Safety and Justice. She has a BA from UC Berkeley and spent a year as a visiting scholar at Harvard University. She lives in Los Angeles.