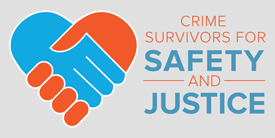 Tell the Justice Department: Listen to Crime Survivors!
Too many prosecutors focus on the wrong priorities by talking about getting "tough on crime" or promoting the number of convictions they've gotten.
The truth is, seven in 10 crime survivors would actually prefer that prosecutors focus on solving neighborhood problems and stopping repeat crimes through rehabilitation – even if it means fewer convictions.1
Do you agree? If so, stand with Crime Survivors for Safety and Justice and sign the petition to the U.S. Justice Department asking them to urge prosecutors around the country to stop the cycle of violence rather than deliver tough sentences.
1 Crime Survivors Speak; The First-Ever National Survey of Victims' Views on Safety and Justice